Traditional dug-out canoe or mokoro safaris have long been a popular way for travellers to enjoy the tranquillity of the Okavango Delta.
It is not surprising that regardless of budget, visitors to Botswana wanting real insight into the lives of the people of the Okavango, choose to do these trips.
They are a good and affordable way to slip quietly into and become part of everyday life in this watery wonderland.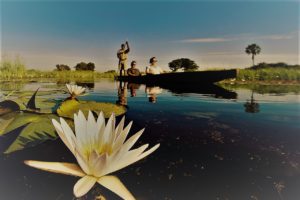 Shangana Safaris conduct Mokoro trails through the community run "Okavango Kopano Mokoro Community Trust". The trust sets the guide and community fees for activities.
The members of this community traditionally use this area of the delta for fishing, the harvesting of water lily bulbs as food and the cutting of reeds for the building of traditional huts.
The mokoro is an integral part of these activities.
We run trips ranging from one to four days, for up to fourteen people. Larger groups can be organised but require prior arrangement.
A motorboat transfer during times of high water, or a safari 4×4 transfer during times of low water, both take approximately one hour from Maun. These will start and end your trip, taking you out by on day 1 at 8 a.m. and getting you back on your last day by 5 p.m.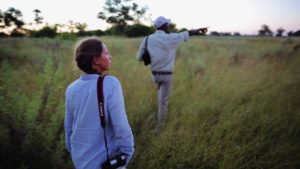 Your days will be spent with your guide gliding silently down waterways, chilling in camp during the mid-day heat and taking early morning and late afternoon game viewing walks.
Your evenings are spent in island camp sites, sitting at the fire-side immersed in the sounds of wild African nights.

In addition to the community guide and polers Shangana Safaris will send you out with our own guide, a chef, all your provisions and equipment needed to set up a comfortable camp on a remote Island.
A typical itinerary for a 3 day mokoro trip would be as follows.
Day 1 Take a 1 hour motorboat ride or safari 4×4 drive (depending on water levels) from your place of accommodation in Maun to a community run mokoro station departing around 8:15am.
Arrive at the Mokoro station around 9:15, meet your mokoro guides/polers and
load all luggage and equipment into the mekoro.
Spend 3 hours on a mokoro gliding to your campsite.
Once in your riverside campsite, have lunch followed by an hour or two relaxation . Your guide will then take you for a 2 -3 hour late afternoon game walk.
Arrive back to camp, have a shower (bucket shower hoisted into a tree, hanging over a canvass enclosure) and enjoy your campfire dinner.
Spend the evening around the campfire enjoying interaction with your guides and sharing stories.
Day 2 Wake up early, (around 5:30) for coffee/tea cereal and rusks.
Depart on a 4 hour early morning game walk.
Return at around 10am for a hearty brunch.
Relax in camp, or ask your guides to take you for a swim.
Mid afternoon, go for a 3 hour mokoro trip or game walk arriving back in camp at sunset, have a shower and enjoy your campfire dinner.
Day 3 Wake up early for coffee/tea cereal and rusks.
Depart on a 4 hour early morning game walk.
Return at around 10am for a hearty brunch.
Relax in camp, or ask your guides to take you for a swim.
Return to mokoro station for motorboat pick up at 4pm
Return back to "The Bridge" at 5pm
Prices: (Valid  until 1st December 2022)
Fully catered and equipped Mokoro Safaris.
2 day trip P3600.00 per person.
3 day trip P5400.00 per person.
4 day trip P7200.00 per person.
Single Supplement 25%.
Prices include the government levy, community day fees and camping fees.
Inclusions.
Mokoro Safaris
Accommodation:
3m x 3m tent with a comfortable bedroll (with linen).
Bedside table with solar powered lantern.
Shared toilet tent and shower tent. Towel supplied.
Meals:(Alternative dietry options available)
Early breakfast- Cereals, rusks tea and coffee.
Brunch- Eggs, bacon, beans, fried tomato, sausage and toast.
Light afternoon lunch- Cold meats, salads breads and fruit.
Dinner- 2 courses, either soup and a main or a main and desert.
Drinks: 3lts of bottled water per person per day and fruit juice for breakfast.
If you would like to take any extra drinks we can supply a cooler and ice.
To contact us please click on the link below