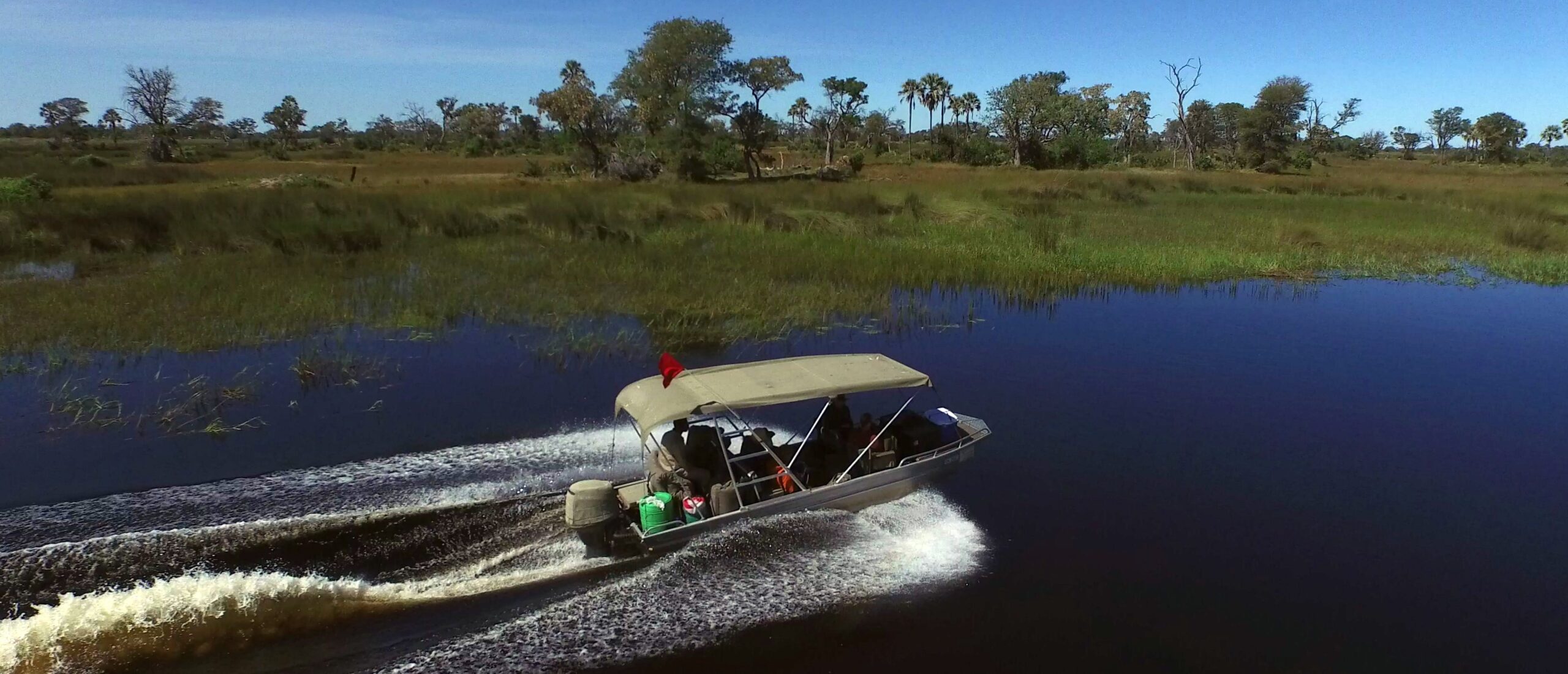 Our multi-day boat trips take you into the heart of the Okavango Delta. We set up camp in various designated areas along the Western side of Chiefs Island. Once in camp we offer guided walks on pristine islands, mokoro explorations on uncharted waterways & boating excursions.
Also available are "Trans-Okavango" expeditions that take you from the "Pan handle" in the very north, through the Okavango to Maun.
Let us know how many days you have to explore the Okavango and we will tailor a boating expedition for you.
Below is an example of a short multi-day boating safari to give an idea of what to expect.
2 night Chiefs Island boating safaris Nxaraga

Day 1: We will meet you at your place of accommodation in Maun, have a quick cup of coffee or tea while meeting your guide to discuss the safari.  We then depart for the boat station at 8:30am. At 9am we leave by motor boat, first on the Thamalakane river then up the Boro river.
After the first 45 minutes passing through a rural area we then cross the "Buffalo fence" and enter the wildlife area of Okavango Delta.
Our next few hours are spent game and bird watching while navigating the reed channels of the southern Okavango on our way up to Chiefs island.
We will stop to have a light lunch of cold meats and salads and a short walk to stretch our legs en-route. After lunch the tender boat with staff and our camping equipment will move on to start setting up the camp ahead of our arrival. The sites we use are all exclusive operators sites that are not shared with other groups.
The tents we use on this safari are 3m x 3m walk-in dome tents, each one has one or two comfortable stretchers with bedrolls depending on whether you are sharing or not. Each bedroll is made up with a fitted cotton sheet, duvet and pillow. Each tent has an attached canvass enclosure to the rear with its own shower and toilet area.
We arrive at our camp at Nxaraga lagoon (19*33'42.21″S 23*12'23.32″E) at around 2:30pm, settle in and take a rest in the shade at our picturesque campsite.
At around 4pm depart on foot with a guide for a short 1 hour game walk around Nxaraga island to stretch our legs. Arrive back before sunset which we enjoy from the boat on the middle of Nxaraga lagoon, probably with a Hippo or two.
Arrive back shortly before dark to a warmed bucket shower and a hearty campfire cooked 3 course dinner.
Retire at your leasure to your tent to fall asleep to the sounds of the Okavango.
Price:
$800.00 per person, minimum 4 people.
for 2 people add 30%,
for 3 people add 20% to the above price.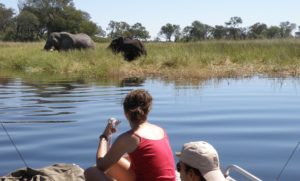 Day 2: We wake up around 6am, have coffee/tea, cereal and a cooked breakfast and then set off at 7am for a 1 and a half hour boat ride to Xaxaba village to meet our mokoro polers. From 9am to midday we go out with our mokoro polers for a 3 hour combination of mokoro poling and walking. From midday we boat further upstream for birding and game viewing in the Jugujugu area for a picnic lunch. Arrive back at Nxaraga campsite in the late afternoon for a shower and campfire dinner.
Day 3: We wake up around 5:30, have coffee/tea and cereal set off shortly after 6am for a 20 minute boat ride to a point from which we can go on a three hour guided game walk.
We then arrive back around 9:30 for a full cooked brunch
We depart from camp around 11am for a slow ride back to Maun with a picnic
lunch on the way.
Arrive back at 5pm at in Maun. From here we say our goodbyes and transfer you to your place of accommodation.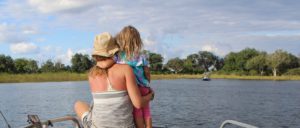 Trans-Okavango Expedition
Usually done over a six day period, this trip is not for the fainthearted and the memories you take with you will certainly never be forgotten. Hippos, crocs and problematic reed blockages can cause planned itineraries to vary somewhat on these expeditions.
A typical Trans-Okavango itinerary
Day 1:
We begin the trip in Maun by driving you in our mini-bus to Sepopa. We depart at 6am and arrive in Sepopa at 10am.
The mini-bus is comfortable, air-conditioned and has ample space for you and your luggage.
By 11am you would be on your way on the boat.
A supply boat with all the equipment, provisions and 2 staff members will have set off ahead of you to make camp.
On the first day we go a short way to Ikoga as it is good to spend the first afternoon acquainting ourselves and getting used to the environment.
If Tiger fishing is of interest then this is the part of the Okavango in which to try your luck.
Day 2:
On the second day you will pass through the remainder of the "pan-handle" part of the Okavango.
Distance needs to be covered so most of the day is spent cruising down winding papyrus channels punctuated by birding, fishing and a picnic lunch.
In the late afternoon we reach "Masupitsila" in the Jedibe area of the Okavango where we find our camp set up for us.

Day 3 and 4:
of your Trans Okavango takes you from Masupatsila to Chao again a long way but now you start watching the scenery and vegetation change dramatically.
You are now in the central Okavango, you have left the winding papyrus channels and deep water. You are now in the wide open flood plains teeming with wildlife.
I would recommend 2 nights in Chao in order to get in a good early morning and late afternoon guided game walk and perhaps spend midday out of the sun relaxing over lunch in a spectacular campsite.
Day 5:
The length of river from Chao down to Nxaraga is arguably the most amazing day of boating the Okavango has to offer (especially in the mid August to mid October period).
This day can be enjoyed at a slow pace to do justice to the bird life, wildlife and scenery. There are a lot of places to stop for a picnic and short game walk or two.
Arrive at Nxaraga in the late afternoon. This is a wonderful campsite set on the edge of a huge lagoon and has good game walking opportunities.
Day 6:
Start the last morning in the Okavango with a long game walk on the southern tip of Chiefs Island, getting back to camp mid morning for a huge cooked brunch to see you through the rest of the day. Spent the afternoon cruising from Nxaraga to Maun with some game viewing on the way.
Price:
$2000.00 per person, minimum 4 people.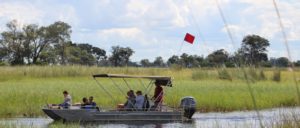 For details of our land based Mobile Safaris please click on the link below