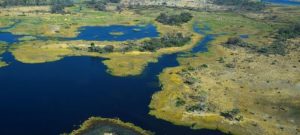 The Okavango delta in Botswana is a very large, swampy inland delta formed where the Okavango river reaches the central part of the Kalahari desert. All the water reaching the Delta is ultimately evaporated and transpired, and does not flow into any sea or ocean. Each year approximately eleven cubic kilometers of water spreads over the fifteen thousand sqare kilometer area. Some flood-waters drain into Lake Ngami and Lake Dow. The Moremi Game reserve, a National Park, is on the eastern side of the Delta. The scale and magnificence of the Okavango Delta helped it secure a position as one of the seven wonders of Africa.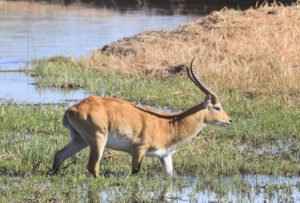 The Okavango is produced by seasonal flooding. The Okavango river drains the summer rainfall from the Angolan highlands and flows over a thousand kilometres in approximately one month. The waters then spread over the two hundred  by one hundred and fifty kilometer area of the delta over the next four months (March to June). The high temperature of the Kalahari causes rapid evaporation and transpiration , resulting in a cycle of rising and falling water levels. The flood peaks between June and August, during Botswanas dry winter months, when the delta swells to three times its permanent size. It attracts animals from kilometres around, creating one of Africas greatest concentrations of  Wildlife.
Chief's Island is the largest island in the delta, it covers an area over seventy kilometers long and fifteen kilometers wide. Historically it was reserved as an exclusive hunting area for the chief, it now provides the core area for much of the resident Okavango wildlife when the waters rise.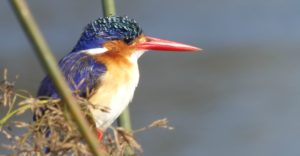 December to February are hot wet months with daytime temperatures as high as 45 °C, warm nights, and humidity levels reaching up to eighty percent. From March to May, the temperature becomes far more comfortable with a maximum of 30 °C during the day and mild to cool nights. The rains quickly dry up leading into the dry, cold winter months of June to August. Daytime temperatures at this time of year are mild to warm, but the temperature begins to fall after sunset. Nights can be surprisingly cold in the Delta, with temperatures barely above freezing.